0
Former Charlotte Bobcats making noise in the playoffs
While I was watching the playoffs this weekend, I found it fascinating how many
former
Charlotte Bobcats that there were playing a significant role in this year's playoffs. Since our squad isn't going to play another relevant game until November-ish, I thought that it would be fun to follow along with some of our former Bobcats brethren in their journey through the playoffs.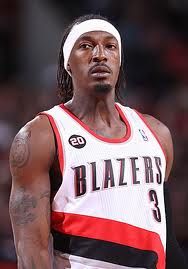 First up
G-G-G-G-Gerald Wallace
( that brought back memories didn't it ). In the last few weeks of the regular season Gerald Wallace had been absolutely killing it, even managing a
40 point outburst
against the OKC Thunder. Unfortunately for Crash, those good times didn't carry over into Saturday's game against the Dallas Mavericks. In that game Crash played 38 minutes but only produced 8 points, 5 rebounds, 3 steals. On the bad side of the ledger he had 3 turnovers and had his shot blocked 4 times.
The culprit of a few of those blocks was another former Cat,
Tyson Chandler
. I'm sure that most of you remember that there are two things that Tyson does well and that's rebounding and playing defense.... When he isn't in a walking boot. Saturday versus the Blazers he had a typical Chandleresque stat line. 4 points, 9 rebounds and 2 blocked shots.
Next up
Jason Richardson
, Remember him? While Dwight Howard and Jameer Nelson were going ballistic on Saturday, J-Rich used his 41 minutes of court time to do... Nothing. 4 points, 1 rebound, 1 assist, 2-8 shooting. This is the kind of playoff performance that gets you shipped out in the offseason.
The Bobcats first ever draft pick
Emeka Okafor
got a win last night versus the Lakers due to an amazing game by CP3. Mek on the other hand did very little because he was plagued by foul trouble. He fouled out in only 21 minutes with a measly 4 points and 2 rebounds. His loss was Aaron Gray's gain, Gray stole the low post show with 12 points off the bench in Emeka's absence.
In this same game, we had yet another former Bobcat
Shannon Brown
. He had a solid 8 points in 13 bench minutes for the Lakers. Two of those points came on this sick, sick, putback dunk.
For the Denver Nuggets,
Raymond Felton
had a productive game off the bench. He logged 12 points and 8 assists and 1 steal in 32 minutes. For Ray's sake I hope that he finds his way to a team where he can start next season. In my opinion he deserves better than coming off the bench.
Last but not least we have
Nazr Mohammed
. He had 2 points and 3 rebounds in 17 minutes off the bench.  The combination of Nazr Mohammed and Kendrick Perkins were pounded by Nene who dropped 22 points and 8 rebounds on them.
Did I miss anyone?