0
Charlotte Bobcats beat down the Los Angeles Lakers 109-89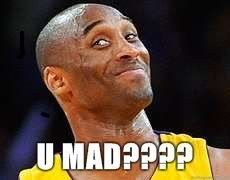 Kobe Bryant, Phil Jackson and the L.A. Lakers shouldn't get so upset about this, they should really be used to this by now. It's been happening for years, No matter how phenomenal the Lakers are or how bad the Bobcats have been at the time, one fact has remained true.
The Bobcats own the Lakers
.
Why do the Cats have this mystical hold over the Lakers? Who the Hell knows, as fans we just have to enjoy it. It brought joy to my heart to see Kobe grinding his teeth and scowling at his teammates. Watching Phil Jackson have a conniption during each timeout was by itself worth the price of admission.
Although this has happened to the Lakers time and time again against the Bobcats, they were still extremely pissed following this loss.  Lets have a listen to what they had to say after being decimated by the Bobcats...
Again
.
Looney-Tunes
Ron Artest was impressed with 3 things following last night's game: Nazr Mohammed's conditioning, Kwame brown's improvement since leaving Los Angeles and third he was impressed with the smell of his Unbreakable cologne. Take a look.
I'm sure that Kobe will be happy to know that after a tough defeat Ron-Ron is still focused enough to maintain a scent that possesses a blend of Italian bergamot, sparkling clementine and African geranium. Gotta Love Ron.
On the Bobcats side of things, Gerald Wallace looked more like the old Crash than he has since prior to the All-star game last season. He finished with 20 points and 11 boards including 2-4 from three point range. In addition to Crash having a solid game, the bench was outstanding. Nazr Mohammed finished with 16 points on 7-11 shooting from the field. He wore Pau Gasol completely out on the offensive end of the court. Gerald Henderson was fantastic off of the bench (Larry Brown must be rolling over in his hyperbaric chamber) He finished up with 18 points, 4 rebounds, 4 assists and 2 blocked shots on 6-9 shooting.
It was a fantastic win for the Cats  -
highlights below
.
Next up we have Derrick Rose and the Chicago Bulls on the road.