0
Charlotte falls at home to Atlanta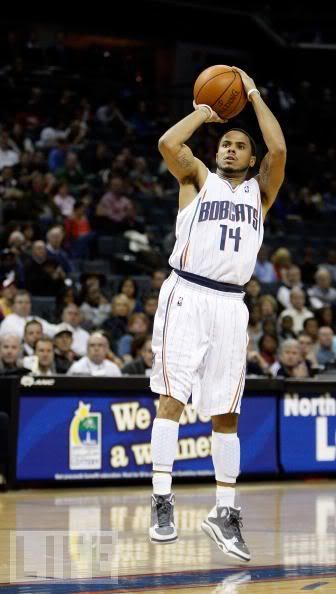 If you've been to the arena you've seen the huge ring at the bottom of the center video screen advertising LifeLock.  LifeLock is a company that provides identity theft protection, which is certainly important, unless of course, you have no identity.  I thought about that a few weeks ago while I was having one of those "Why aren't the Bobcats a bigger deal?" conversations with a fellow fan.  This was again thrown in my face, or so I thought, when I went to NBA.com to check the box score.  
Check out the video
.
I'm sensitive ok?  I thought the man said "To the Hornets in Charlotte."  I went to NBA.com rather than my usual ESPN.com,
see if you can see why
.   NO ONE HAS CORRECTED IT!  This tweet by AP beat writer covering the 'Cats Mike Cranston:  Still happens nightly RT @
HawksPRGuy
: GAME TIME! 
#Hawks
#Hornets
.  When Coach Brown, let's say left the team, I was watching Dan Patrick's radio show and they literally had a joke call-in segment to have people name 2 Bobcats players.  His point was that by firing Coach Brown, the 'Cats were removing the one guy that mattered as far as identity.  Very funny, Bob Costas still owns you.
So worse than the confusion of national and out of town media, the Bobcats have little to no identity on the court.  I have this sense that I never know exactly what we'll see night in night out.  Look at the final scores:  87, 100, 83, 92, 81, 94, 96.  The leading scorer has been somewhat consistent however, who it is would probably surprise casual fans.  DJ Augustin has been outstanding, truly, and I'm not looking for a diamond in the rough, he's been a good point guard.  You expect the Bobcats' leading scorer to be either Stephen Jackson or Gerald Wallace, the all-star from last season.
So, last night, coming into a game against Atlanta, who has been top 4 in the East the last few years, coming off a huge loss, embarrassing really, they looked like the Bobcats against Boston or something.  It was a trap.  Then add to that fact that if you can be sure of one thing on this team, Stephen Jackson's issues with referees and the referees are Steve Javie and Eli Roe....Jack is going to be outside of his own mind.
So there was the setup, how did it go?  Atlanta jumped out to a 9-0 lead, Charlotte came back to actually lead 29-24 at the end of the first quarter.  That can be attributed to Stephen Jackson hitting two threes and Kwame Brown playing solid.  They erased the lead, took one of their own behind solid play.  Second quarter was more of the same.  What gave the Bobcats hope was, of the strong players Atlanta has, Marvin Williams and Al Horford didn't make the trip, then in the 2nd quarter Joe Johnson caught the full brunt of Gerald Wallace and was hobbled.  So the 5 point halftime lead looked good and looked like with Johnson likely out, a cruise to the win.  Wrong.  The Bobcats had one of their standard 3rd quarters.
Gerald Wallace was asked about the third quarters after the game he simply said "I don't know.  I've been trying to figure that out all season."  32-18, and that's about all she wrote, yeah the Bobcats lost the fourth quarter by another 7 but that third did them in.  It's disappointing.  I don't know what it is about coming out of the break.
Coach Silas said it had to do with Atlanta's zone defense, he also said they didn't do many of the things they went over in shoot around very well.  Then he said that they just passed the ball around the perimeter.  All true!  I hate to watch the ball go round and round the three point line unless you've got some hot shooters, which the Bobcats don't.  Boris Diaw was the best shooter at 5-7 last night, 7 shots was nothing when you look at Jack's 14.  It's frustrating, but they keep saying "it happens" or "it's a long season."  Is it so much to ask for a win every night accompanied by 3-8 amazing dunks?  Come on!
Going west this week is going to be tough, not just on the Bobcats but on me.  I'm going to do my best to stay up and interested, in a few cases well past midnight.  The records out there are tough but the teams often aren't a reflection on those records.  Let's hope for the best, even without Tyrus Thomas and coming off a loss that leave many looking for that identity.