0
The Bobcats keep it close, but lose to the Celtics
If you believe in "moral victories" then by all means this could be considered one.
The Bobcats have a long history of pain and suffering against these Boston Celtics. Our hardships against this team have been all over the map, we've experienced the torment that is s a Ray Allen last second shot that hits you like a dagger to the aorta  and we've had to endure far too many of your standard fare 25 to 30 point beat downs  from these jokers in green. With that being said, when rumors hit early on Friday that discussions have been taking place that would
ship Bobcats Co-Captain and the only All-Star in team history away to the Cavs
for their trade exception, most of us figured that the because of the distraction we would get a poor effort tonight.
Newsbreak:  For the sake of accuracy, It wasn't enough that we would be trading away Gerald Wallace for what amounts to an IOU, in order to make the deal suitable  to the Cavs we would need to do the honors of throwing in an additional lottery protected 1st round pick. If those are truly the parameters of the deal and it goes down the way that its being rumored then the reaction of the Bobcats fanbase will probably look a little like this:
[caption id="" align="alignright" width="344" caption="You traded away Crash for What?!?!?!"]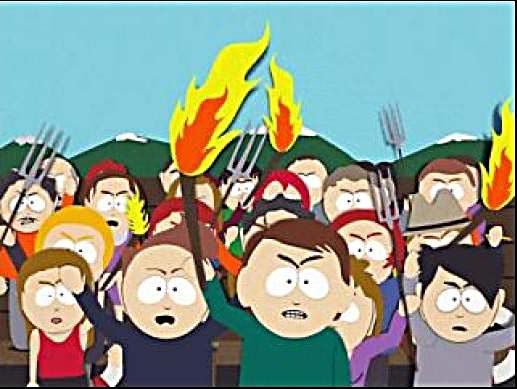 [/caption]
It won't be pretty.
But back to last night. Even though there were distractions and the Cats were on the road against one of the Eastern Conference's elite squads they gave a surprisingly solid effort. They hung in the game for the duration only to fall victim in the 4th quarter to Jesus Shuttlesworth and his magical three point shooting. This ends their 4 game winning streak but unlike some of the losses that we were suffering through Pre-Silas, there was nothing about this one to be ashamed of.
The Good


In spite of the rumors of being possibly traded away to a glorified D-League team like the Cavs, Gerald Wallace gave a very solid effort ( 20 points, 6 rebounds, 8-10 from the free throw line)


DJ Augustin had a respectable 19 points and 6 assists against only 1 turnover. He continues to benefit more than anyone else from Larry Brown being hastily sent on his merry way.


The Bad


We let the suddenly spry 57 year old Shaquille O'Neal go off for 23 points and 5 blocked shots??? Did I accidentally step through a wormhole and it became 1996?


Jax was Jax. Sometimes he shoots you in, sometimes he shoots you out. He does what he does, and basically you learn to live with it. Last night he was 5-17 from the field for 13 points. It was not one of his better offensive performances.


Gerald Henderson had 2 points in 14 minutes off the bench for the Bobcats. I was hoping that he would follow up last week's 19 point game with a few more strong efforts, but so far it has been kind of hit or miss.


Next up the New Orleans Hornets, Nothing makes me happier than beating down those bugs in teal.