0
Blogcat's Take, 2/13
This has got to be the most tragic week in Charlotte sports since…geez, are we in Rae Carruth territory here? Even losing the Anthony Davis draft pick never hurt me this badly. First, on the biggest stage, the Panthers can suddenly no longer hold on to the ball (or block, or kick a field goal, or recognize whether someone is signaling fair catch or not, etc., etc., et frickin cetera). Then the media overblows and vilifies Cam Newton's despondence in the post-game press conference, igniting an unavoidable wildfire of idiocy (I'll spare everyone another full rant on this and just give you the executive summary: a) I hate post-game press conferences, or pretty much
any
interview with any athlete/coach/GM,
because they're pointless, c) and yet despite their meaninglessness, the media tries to act like they're significant anyway, d) because most of the media lacks actual analytical skills or the ability to think critically, e) and so it's the only thing they
can
talk about.). And then Michael Kidd-Gilchrist reinjures his shoulder, probably ending his season. You can even throw on Kemba Walker's All-Star snub if you want some extra seasoning on this McFeces burger. And Frank Kaminsky's snubbing in the Rising Stars game if you want some McPhlegm fries with that. I'm probably one torn Nic Batum ACL away from taking the black.
My only wish is that there was someone I could blame for MKG's injury. After all, it happened because an Indiana Pacer fell on him, and I've always hated that dehydrated piss-yellow color of theirs, as well as anytime they've done the trim around the collar to look like a preacher's tunic.
Also, I've mentioned this before, but I've never enjoyed away games in Indiana because that centerline logo always distractingly reminds me of the Guns'n'Roses logo. See below: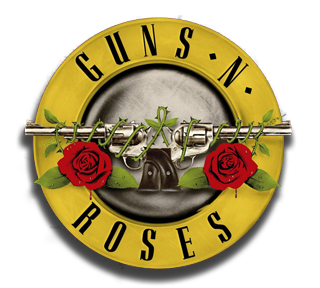 Why doesn't anyone else ever complain about this!? I can't be the only one who has this issue. I feel like anytime the Hornets have an away game in Indiana, Stephanie Ready should constantly catch herself humming "Paradise City" and say, "Sorry, it's that logo again…" Anyway, other than life in general, there isn't anything in particular to blame for Kidd-Gilchrist's latest injury. Ian Mahinmi did fall on MKG, but it was purely accidental; only a Kylo Ren-type would hold MKG's injury against Mahinmi. I've heard some people question the Hornets' front office for letting MKG come back from the first tear so early, but that's pretty tough to reconcile considering how well he played over these past 7 games.
And man, did he play well. In his very first night back against Portland, a game we lost by 18, MKG played 34 minutes and managed to go just -2. He also made plays like this, like he'd never left, that had tears of joy wobbling in my eyes:
For those 7 glorious games
, the Hornets were a +15.2 per 100 possessions with MKG on the court and a -4.3 without him. Only Walker had differentials like that. As seen above, MKG's 6.5 offensive rebounding percentage was topped only by Cody Zeller, and Michael's 60.3 true-shooting percentage (not a typo) was second on the team (still not typo-ing). That TS%, by the way, was almost 10 percentage points better than last year's previous career-high of 51.9% (per Basketball-Reference.com). Not only was he suddenly taking and making 3-pointers (okay,
that
was a typo—oh wait, no it wasn't!), but he was getting to the rim much more frequently (57.4% of FGA's this year vs. 47.7% last year) and finishing better (55.6% to 46.5%). Also, despite missing nearly the entire second half against the villainous Mahinmi and his evil Pacer henchmen, Kidd-Gilchrist was second on the team in total minutes played. This does not fit the profile of a guy who was rushed back too early; even MKG's inability to get a single break from a referee looked 100% healthy. My favorite MKG sequence was probably this one against the Bulls (god, does this feel like a eulogy):
This is quintessential MKG. It's his
Off The Wall
. First, he rotates over to help beaten teammate Cody Zeller and stops Pau Gasol. Then, on a play in which anyone else would have given up or fouled, Michael recovers from his own rotation and makes a fantastic block on the much larger Taj Gibson. Rather than admire his handiwork, he then sprints out and starts a fast-break, which he can't finish (and of course doesn't get the foul). But teammate/brother Kemba Walker, who's also always hustling, has MKG's back and finishes for him. I swear, this whole sequence is so awesome and bums me out so much that I want to write lyrics for it and sing them to the tune of "Cat's In The Cradle," which is just about the saddest goddamn song ever invented.
You know we'll have a good time then, Mike.
As soon as MKG left the Pacers game, the offense got stuck in a malfunctioning, repetitive loop, much like Marco Rubio in a televised debate. Without MKG to spice things up, the Hornets kept settling for long, inefficient jumpers. Fortunately, we were bailed out, in part by random force-of-nature Jeremy Lamb, who seemingly checked in from the planet Neptune to start the fourth quarter, knocked down multiple triple lutz-style jump shots, each one more jaw-dropping than the last, scored 8 of the Hornets' first 11 points to stop a mini-Pacer run, and then vanished after 6 minutes almost as mysteriously as he entered. We also had Walker, Jeremy Lin, and Spencer Hawes getting into the paint and getting to the line. But most of all, we had All-Star Weekend looming, which has a history of bewitching players into concentrating on the beach, an island resort, their entourages, their jump-offs, their baby mommas, and pretty much anything other than the game at hand. But this was very much an
Empire Strikes Back
-style happy ending: our heroes may have narrowly escaped the immediate crisis, but our charismatic leader is gone indefinitely, and the future looks dark.
(Reminder: Please don't forget to check out my e-book at the following
link
)(Other Reminder: Please follow me on Twitter
here
)