0
On pace for 66-0... Your Charlotte Bobcats!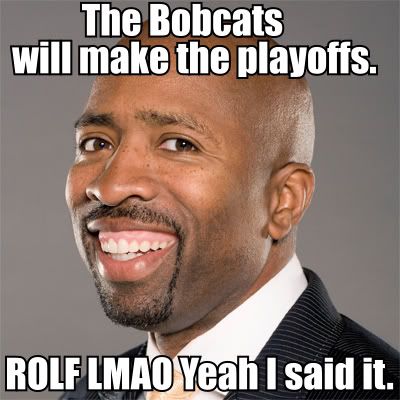 That's right people, The Charlotte Bobcats are a mere 65 wins away from putting together that mythical 66-0 perfect NBA season that the city of Charlotte and the NBA has been buzzing about. Who gives half a crap about that funky little 16-0 that the Green Bay Packers were working on in the NFL this season, when you have a team like our Bobcats
on the verge
of such a legendary season... Um, yeah.
There were plenty of heroes in tonight's game versus the Milwaukee Bucks.


For starters we had our point-center-pseudo-smallforward or whatever the hell he is Boris Diaw playing all over the court and racking up a near triple double. Boris had 9 points, 11 rebounds, 9 assists and 2 blocked shots for good measure (my fantasy team humbly thanks you).


Gerald Henderson showed off his shiny new jumper that he worked on all off-season as he racked up numbers to the tune of 18 points and 9 rebounds.


Before turning his ankle DJ Augustin played a strong game tallying 19 points and 8 assists including clutch scoring down the stretch in the 4th quarter.


And of course we can't forget Kemba Walker who gave us 13 points, 3 assists and 7 rebounds (how do you get 7 rebounds when you are only 5'9"). Kemba also gave us the final two free throws late in the 4th quarter the put this game on ice.


All in all is was nice win and a tremendously fun game to watch. We had the return of Captain Jack, back to back flagrant 1 and flagrant 2 fouls,  A beautiful Corey Maggette alley-oop hammer dunk and the minister of mid-range Kemba Walker locking up the game in the final seconds. It was a good evening to be a Charlotte Bobcats fan.
Next up, the Miami Heat on Wednesday night... Yeah, 2-0 should be absolutely no problem.