0
Blogcat's Take, 12/12
Dec 12 2015 02:31 PM | Blogcat in
Headline
The Bulls. The Pistons. The Heat. The Grizzlies. Tell 'em, Tidwell:
Forgive me, but now is the perfect time to take a victory lap. And there are a number of big laps we could take. Here's a lap the size of Nell Carter's: the Hornets have won 4 in a row, 8 of their last 10, and have climbed all the way to 2
nd
in the Eastern Conference. More amazingly, ESPN's
RPI rankings
have the Hornets all the way up to 3
rd
in the
league
by holding their own against the 6
th
most difficult schedule. ESPN's
BPI
is much less impressed (and, truth be told, probably much more correct), only ranking the Hornets 11
th
overall and 7
th
in the East. But even in that ranking system Charlotte is climbing like Rocky up a Russian mountain.
The biggest reasons for all of this unexpected holiday joy are the offseason moves. Look at this comparison between the players we have and the ones they've replaced (per Basketball-Reference.com). All stats are from this year, except for MKG, of course (God rest his soul), and note that these are not cumulative stats, so they've got nothing to do with playing time: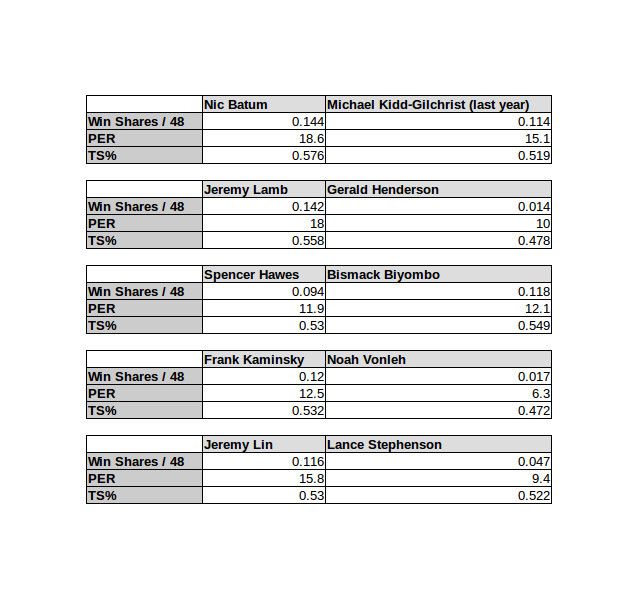 Look at that. Just
look
at it! I bet if you showed this chart to Hornets GM Rich Cho, you'd get a very good idea of what the man looks like post-coital. With the exception of Hawes-Biyombo, it's a sweep across the board, and it's often a rout. And even that Hawes-Biyombo exception is milder than an ABC Family sitcom, because a) I could just as easily have swapped places with Hawes and Kaminsky, which would make all comparisons look even
better
; and
whatever Hawes may lack in per-minute production compared to Biyombo, he
more
than makes up for in aesthetics, usefulness, hairstyle, and general non-suffocation-of-fans'-will-to-live. Biz and Ted Ginn, Jr. are locked in mortal combat for the title of Carolina's All-Time Worst Hands, and the trophy is made of Silly Putty because the winner would immediately drop it.
Wait, I'm not done lapping! What was the biggest story coming out of the draft in June? It was how
stupid
the Hornets were for selecting Kaminsky over Justise Winslow. Hornet fans had to listen to this all summer more often than OMI's "Cheerleader." Well, come get a taste of this:

Wait, I'm
still
not done lapping! I'm like a thirsty dog at a low toilet with the seat up. What was the
second-
biggest storyline coming out of the draft? In the song-of-the-summer analogy, this would have been the "Bad Blood" to the Justise Winslow/"Cheerleader" in terms of crap that Hornet fans had to listen to endlessly. It was how the Hornets had passed up on umpteen million Celtics picks for the 9
th
selection, which Charlotte "stupidly" used on Kaminsky instead of Winslow. I'm not even actually sure how many picks Boston offered, or which year they were, or what conditions were attached, or whatever. But here's Kaminsky compared to the four picks Boston ultimately made:
Jordan Mickey
Only played 5 minutes total so far, although to be fair, he has put up a 66.4 PER in that time, but that's probably not sustainable.
Marcus Thornton
Never played, went to Australia. His NBA legacy will likely be limited to confusing people with the other Marcus Thornton, a veteran NBA journeyman with the exact same spelling—esp. since the other Thornton also played for the Celtics.
Show these last two tables to Cho, and he goes right past a mic drop and into a full-on Jack Black:
Okay, as fun as it is to smear feces in haters' faces, the more important question is, can I get them to eat it, too? No, the more important question is, can our newest additions keep up their production? Leaving aside the rookie Kaminsky, let's look at those same stats for this year's acquisitions compared to their career averages: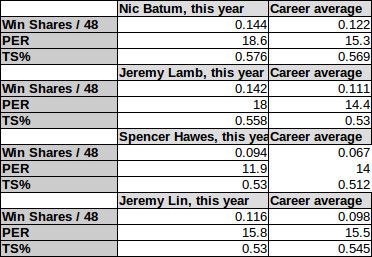 All right, so this table definitely brings some heroin to what had previously been a wild cocaine party. That's because if you're forward-looking, it's generally never a good sign to see players outperforming their career averages, which is mostly what's going with this table. The reason for this is that it's always likely for any given player's numbers to start regressing to the mean rather than keep surging higher. However, think of this heroin as some smooth, high-quality product that takes the edge off, rather than some black tar junk concocted in a Tijuana back alley that results in an amputated arm. I believe this for a few reasons. First, most of these guys' true-shooting percentages are pretty similar to their career averages, and Lin is actually
underperforming
this year. Good shooting is what Charlotte desperately needs more than anything else (besides maybe someone to tip off Al Jefferson on when the next urinalysis is coming), so a little regression in this category would be survivable. Second, Lamb is still in his pre-prime years, and at 27, Lin and Batum are both in the middle of their prime years, so a reduction in production for all three is not absolutely guaranteed. Third, all of these guys are in new situations with much more consistent playing time, which also lessens the likelihood that they'll drop off from their current performances.
In conclusion, I'm doing something I never thought I'd do, which is congratulating the Hornets front-office on a job well done. It's been a fantastic start to the season so far, arguably more impressive than what the second-biggest sports love of my life, the Carolina Panthers, have done. The cynical part of me, the part who never left that rat-infested studio in Manhattan's East Village, is afraid the party is going end soon—possibly this week, with games coming up against the Celtics, Magic, and Raptors. But for now, to sum up my good cheer, I'll leave you with my tweet response to the
Charlotte Observer's
Rick Bonnell:
(Reminder: Please don't forget to check out my e-book at the following
link
)(Other Reminder: Please follow me on Twitter
here
)