0
Blogcat's Take, 2/27
By the time Kemba Walker's career is over, I'm going to owe him a debt of gratitude the size of a student loan. Last night in Indiana was just the latest in a long line of tiny miracles in which Kemba's ability to manipulate opponents reached Johnnie Cochran levels, and he saved us fans from a near certain downfall. I was already in a bad mood from the start, because the game was in Indiana. See last week's article for why Indiana's annoying to me, but also add to it these two items: 1) they call their arena a "fieldhouse," which is just silly; 2) they prominently advertise the University of Indiana throughout their "fieldhouse," as if there are locals attending the game or watching on television who are unaware that IU is a potential college option. "Fieldhouse" aside, there's also evidence to suggest that their coach isn't the brightest pixel in the flat-screen:
Also, Monta Ellis, whether by design or (more likely) not, eats up a huge part of the Pacers offense and basically poops it all out in the form of wasted possessions. In fact, I ran the numbers and
uncovered the following
: there are 55 players in the league who meet the following criteria: at least 45 games played, at least 30 MPG, at least a 20% usage rate. Of those 55, Ellis has the 51
st
-ranked TS% (50.4), just ahead of Michael Carter-Williams. Folks, that is just phenomenal inefficiency for a pro basketball team. It's like relying on the gate-opening contraption in
The Goonies
to power a submarine.
All of this is just to say that it would have been brutally disheartening to lose to a team like the Pacers, especially when the Hornets held a 14-point lead deep into the third quarter, and extra-especially when it appeared that Ellis himself had hit the game-winning shot with 16 seconds left. Fortunately, Coach Steve Clifford called an extremely shrewd timeout on the subsequent Hornets possession that looked confused, discombobulated, and frankly, like it was about to choke on its own vomit. This left the Hornets with a half-court inbound and 10 seconds to go. Kemba received the inbound, split George Hill and Ian Mahinmi with an assist from a Cody Zeller pick, and all of a sudden a huge lane to the hoop opened up like a Wal-Mart on Thanksgiving. Walker still had to make a
really
tricky up-and-under finger roll—even needing to switch to his left hand—due to a last-stand block attempt by Paul George, and with that, the Hornets escaped again.
Walker's heroics—and we shouldn't discount the out-of-rhythm 26-footer he sank to reclaim an 88-87 lead with 3 minutes left—helped overcome a really poor showing from Nic Batum. Batum only took 6 shots all night, couldn't guard P. George at all, and turned the ball over 5 times. Two of those turnovers were bad passes that led directly to Pacer fast breaks, and a third was a steal by George that he converted into a jumper. In the month of February, Batum has had at least 4 turnovers in 7 of the Hornets' 9 games. For the year, Batum has had at least 4 turnovers in 22 of the 48 games he's played. And though it pains me to turn this into a "Nic Batum is the Monta Ellis of turnovers" discussion, it's unavoidable. Batum's turnover rate is 14.7%. If you filter on that same criteria I used for Ellis—45 games played, 30 minutes per, 20% usage rate—Batum's turnover rate is the second-worst out of those 55 players, ahead of only Emmanuel Mudiay (Ellis himself is 4
th
-worst, and I should also point out that Carter-Williams in this group, which means that the only thing weaker than MCW's offense might be his chin).
Just to add some further context to this, and to REALLY piss off any of you who hate anytime this blog looks like something you'd get handed at a conference table, I plotted the turnover rates vs. the usage rate of these 55 players. Here you go, and please hold all questions until the end: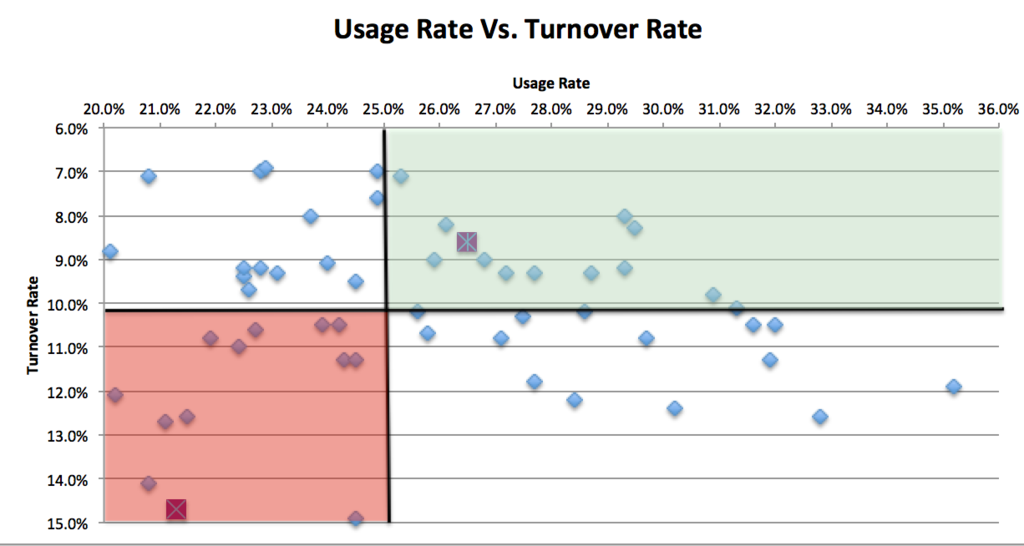 Okay, it's probably the weekend when you're reading this, and you're probably hung-over. I'm actually still drunk myself, so I'll go slow. I've got usage rate going from left-to-right and turnover rate going from top-to-bottom. Then I've carved up the chart into 4 quadrants based on the median turnover and usage rates (Remember medians from the third grade? Me neither, but Wikipedia tells me they're the middle values in a group of numbers. In this case, 25% is the median usage rate and 10.1% is the median turnover rate). Okay, for those of you who are already glazing over like a Krispy Kreme, the green rectangle = good, because it's where you want to be: high usage rate, low turnovers. The red quadrant is bad, because it's high turnovers despite low usage. Unfortunately, that's Nic Batum there in the lower-left with the big square and the X through it. The good news? That's the jitterbug himself, Kemba Walker, safely up in that green rectangle. FYI, your highest-usage/highest-turnover player, i.e., the lowest corner-right guy is James Harden, which is about as surprising as an all-white Oscar nomination. Your highest-usage/least-turnover prone, i.e., the furthest upper-right dude is the somewhat surprising DeMar DeRozan, closely joined by the much less surprising Anthony Davis. And the upper-left, low-usage/low-turnover dude is Al Horford, which totally makes sense.
Anyway, the conclusion to draw is that by virtue of being on this chart at all, the Hornets have two of the 55 biggest workhorses in the game (lots of games played, lots of minutes per, lots of possessions ending with them—for better or for worse). One of them is great at avoiding turnovers, and one of them is among the two worst, and we saw that play out last night. Of course, turnovers aren't everything. As alluded to earlier, you could do the same plot of usage rate against TS%, and carve it up into four boxes. Aw hell, who am I kidding? I did it…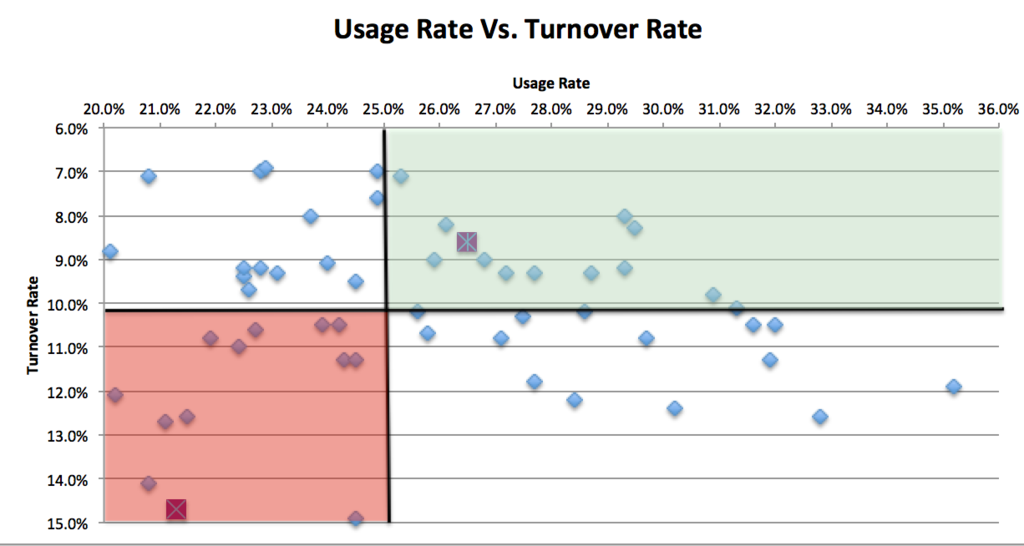 Unfortunately, now Batum is
still
in the worst box (although not as badly at the bottom of it as he was with turnovers), and Walker is no longer in the good zone. This is a total bummer! Worse, it's a completely self-inflicted total bummer! Nobody is making me do this to myself! Why can't I just go eat some cheeseburgers and watch
Deadpool
like a normal person! Also, I obviously didn't mean for this blog to be a takedown of Nic Batum, who has undoubtedly been a good addition to the team, especially considering the guy he was replacing (Son of Stephen, a.k.a, He Who Shall Not be Named). But this might be something to bear in mind when it's time for Batum to get a new contract next year. (PS—I probably don't need to tell you who that loan dot is up there with the 68% TS%)
Batum's turnover rate this year is at a career high, as is his usage rate, and with the exception of last year when he played hurt, his TS% is at a career low. And because he's still in his 20s, we might expect that he gets better after adjusting to a bigger role. But Batum is not in his
early
20s, and now we're at 2 years in a row in which he's missed significant portions of the season due to injuries. Bottom-line: I'm loving this shockingly-competent Hornets team as much as anyone, but I'd be lying if I said I wasn't starting to feel the 2011-It's-Not-Sustainable jitters.
(Reminder: Please don't forget to check out my e-book at the following
link
)(Other Reminder: Please follow me on Twitter
here
)